Twist Top Lids
Reduce Your Carbon Footprint by Re-Using "Twist Top" Jars, like Dolmios, IXL, & Leggos Valerie's favourite system, and very GREEN too.
Ordinary jars from such products as pasta sauces and jams, from such brands as Dolmio to Golden Circle are being thrown out all over the country. Sure the glass can be recycled, but we wanted to re-use the jars themselves, saving a huge amount of energy in the recycling process, and therefore reducing greenhouse gasses.
Safe preserving requires new lids for a more reliable seal, and for a vacuum to be achieved when processing. Re-use of lids is not recommended due to the rubber ring on the underside of the lid deteriorating due to acid in the foods, and the wear from general use causing the seal to fail.
We now offer the 7 most common sizes in convenient packs of 10, 25, and 50, as well as a mixed "sampler" pack of 12, covering the complete size range.
Measure your old lids like this.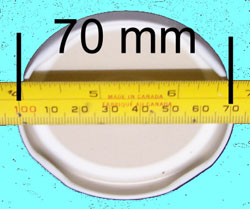 We have now used "twist top" jars for home preserving successfully for over 10 years for high acid preserving.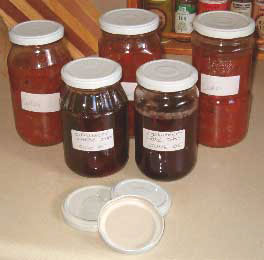 ---