Pasta Sauce

This recipe can be made in batches as large or small as you need.
Ingredients
5 kg tomatoes
5 medium onions
4 medium capsicum
1 Tbs Basil
1 Tbs Salt
1 Tbs Oregano
4 Tbs sugar
Directions:
Chop the tomatoes, onions and capsicum and place in a large pot.
Bring to boil, stirring occasionally.
Reduce heat to low to medium and simmer.
Add the salt, basil and oregano.
Add the sugar one tablespoon at a time, stirring between each addition and leaving 15 minutes before adding the next tablespoon. Some tomatoes are sweeter than others, so you need to taste between additions and stop when the sauce is at the right sweetness. I have found that 4 tablespoons is a good average, though I have sometimes used 3 and sometimes 5.
Continue cooking the sauce for 2 and a half to three hours. As you continue to cook the sauce, it will reduce as the excess liquid cooks off and the sauce will become thicker in consistency.
Fill the clean jars, leaving some "headspace", finger tighten the lids on, and process in a boiling water bath at a rolling boil for 20 minutes.
WARNING: Tomato is a high acid food that can be preserved using this method, but some tomatoes have less acid than others. Therefore, you must place a teaspoon of lemon juice, fresh or bottled, in the top of each jar prior to processing.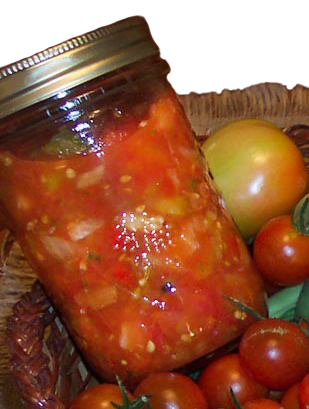 This category is empty! Please try another category or use our search function to find what you are looking for. If you require further assistance please contact us.