2.2 litre BPA free fermentation pail with grate, dual lids and airlock for making your own fermented vegetables.
Easy To Use

This system is simple and easy to use. Just add to your veggies and probiotic vegetable culture, top up with water and leave to ferment.
Budget Friendly

This budget friendly fermentation system will save you heaps versus buying fermented vegetables, such as saurkraut and kimchi, from the shops.
Recyclable Materials

The fermentation pail, grate and lids are made of 100% recyclable, BPA free polypropylene, making it eco friendly and good for the environment.
How Does It Work?
This fermentation system is perfect for fermenting small batches of kimchi or sauerkraut, olives or traditional dill pickles.
The grate holds your vegetables under the fermenting liquid, preventing any of your food from floating to the surface and spoiling.
The 2-part airlock is easy to clean and allows fermentation gasses to escape on their own while keeping the pail sealed from any contamination. This makes the system much safer and easier to use.
Kit Contains:
2.2 litre fermentation pail.
Grate to hold vegetables down, preventing spoilage.
Lid with hole and grommet for fitting airlock.
2 part, one-way airlock to seal out contaminates.
Second lid without hole for storing your fermented veggies in the pail after fermentation.
Features:
Convenient and affordable system ferments and stores your veggies.
Removable grate holds the veggies down under the fermentation liquid.
One lid is fitted with a gromet that holds the one way air lock.
A second lid is supplied so you can seal your ferments for storage in the fridge after fermentation is complete.
The pail, lids and grate are made of BPA free polypropylene and are fully recyclable.
(3190)
| | |
| --- | --- |
| SKU | 3190 |
| Barcode # | 646492140529 |
| Brand | Green Living Australia |
| Shipping Weight | 0.3500kg |
Fermentation kit

By:

Azure-dee Uys

on 8 March 2021

I love this product but it would be even better if you could push the mesh guard down into a slot so it wouldnt be able to pop up. Still the best fermentation kit ive purchased. Thanks heaps




(5)
Just what I needed for my chilli ferments

By:

Lloyd Cutler

on 16 December 2020

These are the right size for my chilli plant stock, have previously put down two ferments and both have turned out very successful. Now have three for the various heat levels I use.




(5)
Fermentation System with Airlock

Works great. Comes with recipe. Easy to use.




(5)
Just what I needed

By:

Lloyd Cutler

on 2 March 2020

Being a bit of a chilli fan and watching a few videos on fermented chillies to make sauce from, I was keen to start straight away. A quick Google search found this product and the ordering process was quick and easy. Arrived very quickly and bam, first batch of chillies are fermenting. Once my chilli stock expands, I will need a few more most likely and I will be purchasing from same place.




(5)
Fermentation System with Airlock

By:

Jenny Robinson

on 11 April 2019

Instructions good, recommend adding sterilisation of unit to these. Product performs as promised. Makes delicious fermented vegetables. Easy to use.




(5)
You May Also Like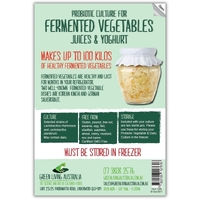 Probiotic Vegetable & Dairy Culture - 100 litres/k
Now $14.00
On Sale
27% OFF
RRP $19.25
Vegan Fermented Vegetable Culture - 100 litres / k
Now $10.00
On Sale
48% OFF
RRP $19.25
Others Also Bought
More From This Category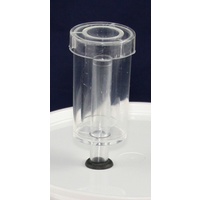 $6.95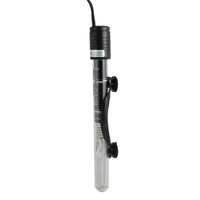 Fermentation / Aquarium Heater
$21.99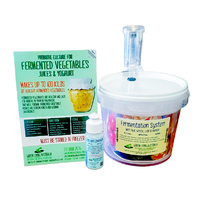 $46.75