Sugar Free Home Preserving
Sugar Free Home Preserving Classes
( maximum of 8 people per class )
A great way to start your preserving adventures.
Learn the basic steps to safe home preserving, in an ordinary kitchen with your own, every day, kitchen utensils.
You do not need a commercial kitchen or commercial kitchen equipment to make wonderful preserves in your own home.
Learn to make Jam, Jelly, Pickles & Chutneys and Vegetables, in our half day beginners class.
You get to take some home too.
All this for just $150
---
Location
Our half day "Home Preserving Courses" are held in Underwood, just on the southside of Brisbane - SE Qld ... on a regular basis. We also hold our "Cheese Making Lessons" here.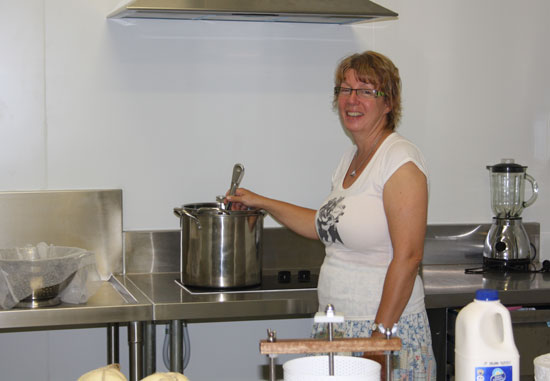 Here is Valerie in our air conditioned, purpose built "cooking school classroom".
Description
Classes start promptly at 10am, and run up to 5 hours duration, depending on how much fun everyone is having.
Each class will cover safe preserving basics and techniques, and will include some hands-on steps, sampling, and discussing preserving history, methods, and so much more.
Whether you're a beginner or just want to know more, by the end of the day, you will have a good foundation for filling you pantry with delicious home preserves.
Our classes are held on week days, and Saturdays, with the class size limited to a maximum of 8 people, so that everyone gets to have a "hands on" experience.
Booking
Please note: Due to the demand for these classes bookings are essential and payment is required at the time of booking.
Selected classes may already be fully booked, avoid disappointment by contacting us early.
Please call 07 3808 2576 to book.
Schedule
Green Living Australia offers classes and workshops on a variety of topics every week!
For class times and upcoming workshops, please check out the class schedule.
TERMS AND CONDITIONS OF SALE
Please read these Terms and Conditions carefully before purchasing a ticket. By purchasing a ticket you agree to be bound by these Terms and Conditions.
These Terms and Conditions relate both to the sale of tickets and attendance at events. These Terms and Conditions apply to both the original purchaser and any subsequent ticketholders ("you").
1. Green Living Australia will only offer a refund or exchange of a ticket if an event is cancelled, rescheduled or significantly relocated (and you cannot or do not wish to attend the rescheduled or relocated event), or to the extent otherwise required by law (including the Australian Consumer Law). You must apply for a refund within a reasonable time. Green Living Australia does not offer refunds or exchanges as a result of a change in your personal circumstances.
2. If an event is cancelled, rescheduled or significantly relocated, all liability is limited to the amount for which the ticket was purchased (including any fees or charges). Proof of purchase may be required for any refund or exchange. Unless required by law (including the Australian Consumer Law), Green Living Australia will not be liable for any other losses incurred by you as a result of the cancellation, rescheduling or relocation of an event, including any travel and accommodation expenses.
3. Green Living Australia will only replace lost, stolen, damaged or destroyed tickets if the authenticity of the ticket can be verified, including proof of purchase, and if you give reasonable notice before the event.
4. You may not be permitted to use cameras or other photographic or recording equipment (including mobile phones).
---
Didn't find the information you need? Please try another category from the menu or use our search function to find what you are looking for. If you require further assistance please contact us.