Pressure Preserving
Presto® 23-Quart Pressure Canner
Model No. 01781 (or 0178001)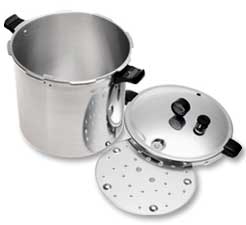 The easy-to-read gauge automatically registers a complete range of processing temperatures.
Air vent/cover lock allows pressure to build up only when the cover is closed properly and prevents the cover from opening until pressure is safely reduced.
23-Quart liquid capacity (21.8 litres)
280 mm high and 310 mm wide, internally
Presto® Pressure Canners also double as water bath canners for preserving fruits, jams, jellies, pickles and salsas.
Canners are constructed of extra-strong, warp-resistant aluminium and are suitable for use on regular and smooth-top ranges. Includes cooking/canning rack and complete instruction and recipe book.
We are currently seeking a new supplier of genuine presto canners
We aplogise for an inconvenience
This is so much more than just a basic manual ... this is a reference work in it's own right. You will find processing instructions, temperature and time instructions for different foodstuffs, and even some great recipes.
---
Didn't find the information you need? Please try another category from the menu or use our search function to find what you are looking for. If you require further assistance please contact us.