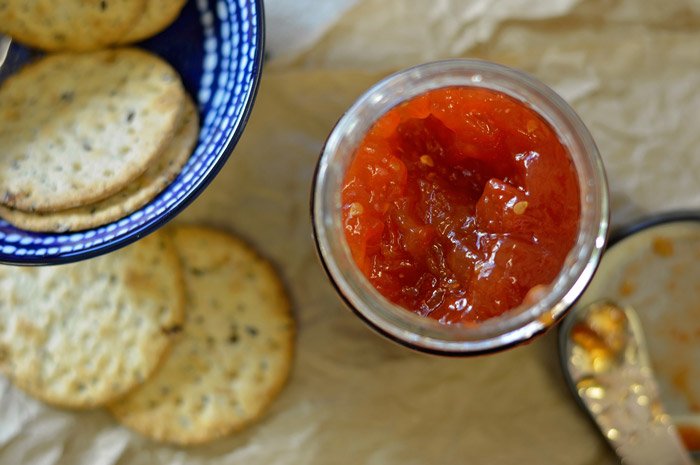 As summer ends, tomatoes are in abundance and my glut of this delicious food needs to be put to good use. What better way to save some of that summer sunshine than to bottle it in the form of tomato jam. You can serve this as you would a traditional jam, with cheese or even on a hot dog.
Ingredients:
1 kg Ripe Tomatoes
4 Tbs lemon juice
400 g Xyltiol
1 tsp Pomona's Pectin
1 tsp Calcium water (comes with Pomona's Pectin)
Method:
Prepare your 250 ml jars and lids by sterilising them in boiling water for ten minutes.
Remove the skin from the tomatoes by dropping them into boiling water for 30 seconds and then placing them in a bowl of ice water. The skins will loosen and slip right off.
Chop your skinned tomatoes and place them into your preserving pan, along with the lemon juice. Simmer over a low to medium heat until you have a pulpy consistency. [caption id="attachment_430" align="aligncenter" width="700"] Tomatoes with Skins Removed[/caption] [caption id="attachment_431" align="aligncenter" width="700"] Tomato Jam Simmering[/caption]
Mix your pectin in with your xylitol and combine well. Slowly add this mixture to your tomatoes, while stirring and mix in well until it is completely dissolved to avoid clumping.
Prepare the calcium water per the instructions from the packet of Pomona's Pectin. Add the calcium water to your tomato jam.
Return to the boil and boil for two minutes. Remove from the heat.
Using a ladle and jar funnel, place your jam into your hot, sterilised 250 ml jars, leaving a one and a half centimetre head space. [caption id="attachment_432" align="aligncenter" width="700"] Tomato Jam in Jars[/caption]
Clean the rims of the jar to ensure you get a good clean seal and cap with your sterilised lids.
Process your filled jars in a boiling water bath for five minutes.
This jam is full of flavour and healthy too. Taste the tomato, not the sugar. Real summer in a jar does not have to be overly sweet and using Pomona's Pectin you get the consistency and texture you are looking for without having to add all that sugar. I hope that you enjoy the recipe as much as I do. Enjoy!