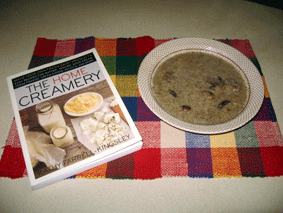 In my post on making your own butter I included a recipe for making your own Crème Fraiche. After making my cultured butter, I had enough Crème Fraiche left over to make a mushroom bisque. The idea for the recipe comes from a book by Kathy Farrell-Kingsly, called
The Home Creamery.
I am often dipping into this book for great money saving food ideas involving dairy products you can make at home. I changed the recipe to suite what I had on hand as follows.
Ingredients:
900 grams of button mushrooms, trimmed and halved
6 tablespoons olive oil
Salt and freshly ground black pepper
5 cups vegetable broth (I used some OXO cubes I had on hand)
2 tablespoons butter
1 medium onion, chopped
3 garlic cloves, minced
¼ cup plus 2 tablespoons dry sherry
3 tablespoons plain flour
1 cup of home made Crème Franchi
¼ teaspoon dried thyme or 1 tablespoon of fresh thyme
Method:
Preheat the oven to 200 degrees C.
Line two large baking sheets with foil. Divide the mushrooms between the two baking sheets; drizzle with the oil and season with the salt and pepper. Cover with another sheet of foil and place in the oven for 30 minutes.
Remove the top foil and cook for an additional 15 minutes.
Combine half the mushrooms with two cups of the broth in a food processor and process till smooth.
Melt the butter in a large pot and add the onions and garlic.
Cook till the onions become soft and translucent, stirring often to prevent them from sticking. Add the dry sherry and simmer till most of the liquid evaporates. The alcohol evaporates off but the flavour remains. This only takes a few minutes.
Add the flour and stir for two minutes.
Stir in the remaining broth, your home made Crème franchi and the thyme. Stir in the mushroom puree and the other tray of mushrooms.
Simmer over medium heat for a further 10 minutes. The mixture will thicken slightly.
Season with salt and pepper to taste.
Still have some home made Crème Frachie left? Serve it with strawberries for a refreshing after dinner treat.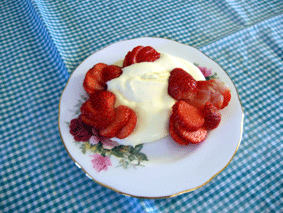 Enjoy!