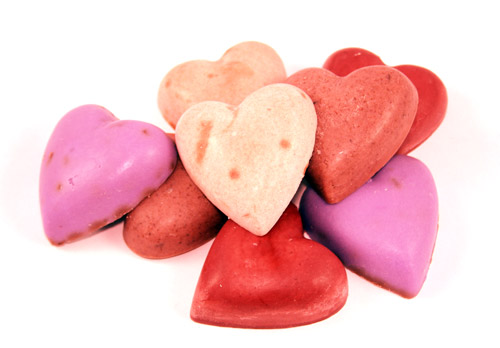 This beautiful soap is made from 100% plant based ingredients. It is great for your skin and works wonders on hair as well. We love the way the pink and red hearts turned out just in time for Valentines Day!
Ingredients:
120 grams caustic soda
300 grams distilled water
200 grams coconut oil
200 grams sustainable palm oil
400 grams olive oil
50 grams evening primrose oil
15 ml rose geranium oil or fragrance of your choice
Optional Extras:
2 teaspoons dried rose petals
2 to 4 teaspoons ruby rose mica (for colour)
Heart shaped soap moulds
Directions:
Gather all your equipment and ingredients.
Weigh the water, caustic soda (sodium hydroxide) and the oils you will be using.
Mix your caustic soda solution.
Melt your oils.
Equalise the temperature of the caustic soda solution and the oils at 34° to 38° C.
While mixing, slowly pour your caustic soda solution into your oils.
Once your mixture is ready, pour your warm soap into your mould(s).
Wrap your mould(s) in insulating material such as a blanket or some towels. llow to dry. (18 to 24 hrs.)
Remove your soap from the mould(s) and allow to cure for a minimum of 6 weeks.
For more detailed instructions, please refer to our Soap Making Basic Principles online or purchase our Soap Kit Instructions.