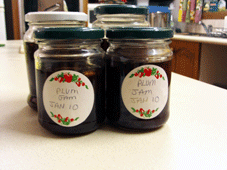 Stone fruit season is one of my favourites. We love to eat them fresh, but always get extra to make jams when the prices are at their best. I picked some up at the markets for $2.00 a kilo the other day and used this recipe from the book
Basic Basics Jams, Preserves and Chutneys, by Marguerite Patten
. This book is full is simple recipes that are great for the beginning jam maker, and then, following the recipes, Marguerite gives you some interesting variations you can try as you get more experienced.
Ingredients:
Plums: 450g Water: Up to 4 tbs. Sugar: 450g
Directions:
1. Halve the fruit and carefully remove the stones. If the fruit is too firm to halve before cooking then allow 550g of fruit and remove the stones when the fruit has softened. 2. Put the fruit into the preserving pan. If the plums have been halved and they are very ripe do not add any water at all, but if very firm and under-ripe use up to the 4 tablespoons
new lids
.
boiling water bath
for 5 minutes. Remove from the hot water when the time is up. Use of a 
jar lifter
will prevent you from burning yourself.