Typically, Ricotta is made from the whey left over from hard cheese making; however, it can also be made from whole milk. Out of 4 litres of milk I made 600 grams of Ricotta. This is my recipe taken from the
30 Minute Mozzarella and Ricotta kit.
Equipment:
Stainless steal pot large enough to hold 4 litres of milk
Dairy Thermometer
Ladle
Butter Muslin
Ingredients:
4 Litres whole milk
1 teaspoon Citric Acid
1 Teaspoon Cheese salt
Method:
1. Pour the milk into your pot and add the citric Acid and cheese salt and mix well. (The salt is optional and for taste only) 2. Heat the milk to 90 degrees C, stirring frequently to avoid scorching the milk. 3. When you see the curds and whey separate, remove the pot from the heat and allow it to rest for 5 minutes.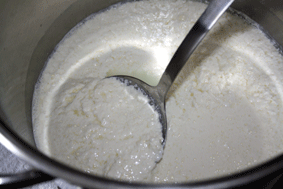 4. Carefully ladle the curds into a colander lined with the butter muslin and allow to drain for a few minutes.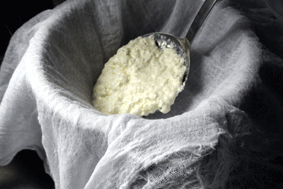 5. Tie the corners of your butter muslin together to form a bag. Hang and drain for ½ an hour, or until the cheese reaches the consistency you prefer. 6. Once the cheese has reached the desired consistency, it is ready to eat.
Storage:
This cheese will keep for up to two weeks in an air tight container in the refrigerator. If you need to keep it longer, you may freeze this cheese. On the web at
Grocery Shopping List Supermarket Comparison
, Ricotta was selling at Coles for $3.67 for 200 grams. All other brands were significantly more expensive. With the above recipe you get 600 grams for the price of 4 litres of milk; that's about $4.40, or $1.47 for the same 200 grams.
Enjoy!