Making your own sour cream is just as easy as making your own yoghurt. I use an EasiYo container for making my sour cream and leave it for 24hours. Here is my simple recipe. Ingredients:
Method: 1. Place 1 litre of cream in a stainless steel pot on the stove and add the powdered milk, mixing well to ensure it is fully dissolved. 2. Heat your cream mixture to 30 degrees C. 3. Pour the warm cream mixture into your EasiYo container and mix in the culture. 4A yoghurt maker will have directions on maintaining the heat. The only change required here is that in an EasiYo system for example, do not fill the external container so high with boiling water, as to have it come in direct contact with the yoghurt container as this may scald, and kill some culture. Just fill it to the level of the hole in the baffle, and this will give you the benefit of a heat reservoir, without risking scalding or killing the culture If you do not have a yoghurt maker, then place your jar in an esky and add warm water, but do not have very hot, or boiling water, in direct contact with the jar. You can also wrap your jar in a blanket, and place it in a warm place; on top of the hot water heater works well in my laundry. You will have sour cream in 24 hours, but it will continue to thicken with time and the flavour will continue to strengthen. While you can use the sour cream after 24 hours, I like the taste better after 48 hours.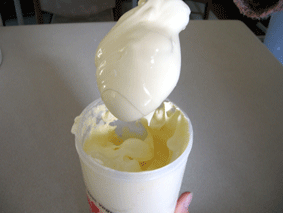 It is important to only use pure cream. Thickened cream has additives in it which will result in a separation of whey out of the cream, as seen in this photo below.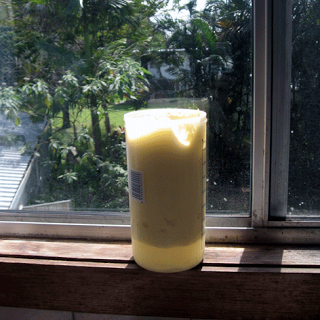 Use this sour cream in cooking, for making dips or serving with fruit or vegetables. Home made sour cream is thick and tangy in flavour and retains its natural rich colour and is far superior to the commercial sour cream available in most supermarkets today. Now you have a go!