September is the beginning of strawberry season here and I was lucky enough today to get two kilos of strawberries for just $6.00 at my local fresh fruit and veggie market. I have taken this recipe from
The Beginner's Guide to Preserving Food at Home by Janet Chadwick
. This is a very simple recipe and would be a good start for anyone who has not made jam before.
Basic Strawberry Jam
Ingredients:
2 kilos strawberries
6 cups sugar
1. Select the jars you are going to use and make sure you have
new lids.
Sterilise the lids and jars (in boiling water). 2. Wash and hull the berries carefully.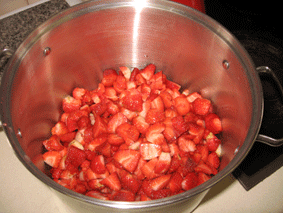 3. Combine the berries and sugar in a tall, heavy saucepan. Crush to release the juice.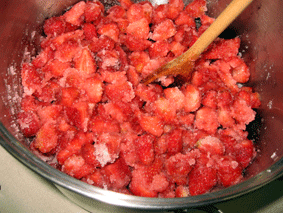 4. Bring slowly to the boil, stirring occasionally, until the sugar dissolves. Then boil rapidly till thick, about 40 minutes. As the mixture begins to thicken, stir frequently to prevent scorching.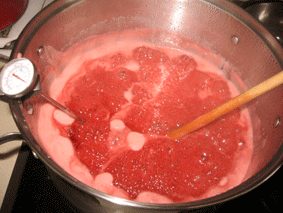 5. Test for doneness – 105 degrees C with a
thermometer
or when the jam sheets off the spoon. 6. Remove from heat and skim off any foam that formed during boiling. 7. Pour into the jars, leaving a one to two cm headspace. Wipe the rims of the jars with a clean, damp cloth. Put on the lids and tighten finger tight.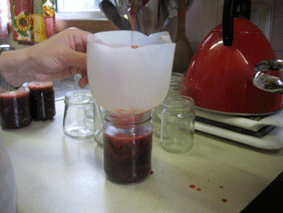 8. Place the jars on a rack in a large pot that you are using for a
boiling water bath processor
. Process for 10 minutes, once the water has returned to the boil.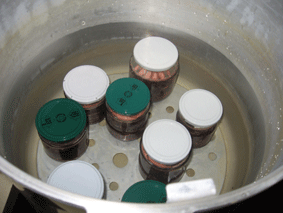 9. When the processing time is up, carefully remove the jars from the boiling water bath with a
jar lifter.
10. Cool sealed jars. Label and store. If you have difficulty telling when your jam is done and you do not have a thermometer to check the temperature, then try the freezer test. Just place a small amount of the jam on a plate and pop it into the freezer for a few minutes. If this small amount sets, it is done.