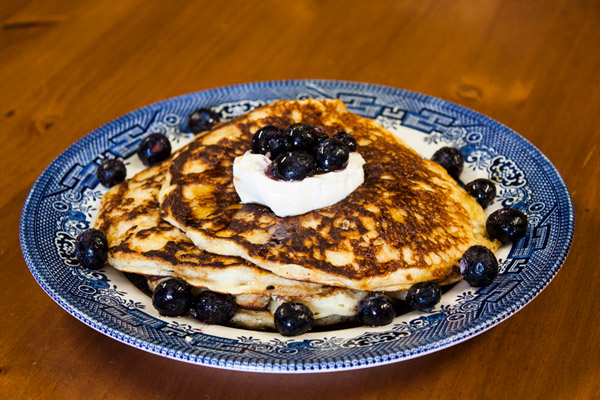 Breakfast is said to be the most important meal of the day but unfortunately many people either skip this meal all together or eat a highly processed, high carb, high sugar food such as cereal which does not give them the good start to the day they need. Even so called healthy breakfast cereals do not have the protein and fat needed make one feel satiated and stop that mid-morning snacking on even worse foods. Sugar coated donuts anyone?
My Ricotta pancakes made from my own homemade ricotta are a perfect way to start the day. They are sugar free but don't worry, your body will break down the flour for energy which is much better than refined sugar. Use wholemeal flour for a healthier option.
Ingredients
2 cups self-rising flour (wholemeal is the healthier choice)
2 teaspoons Bicarb soda
A pinch of salt
One tablespoon xylitol
250 grams of homemade ricotta
2 cups of milk (skim or full cream)
2 eggs beaten
50 grams butter (Melted)
The zest and juice of one lemon
Oil for the pan
Instructions
In a large bowl combine all of the dry ingredients and stir them together.
In a second bowl combine all of the wet ingredients and stir them together.
Add the wet ingredients into the dry ingredients and stir them together. Do not over stir.
Using a small amount of oil, heat up your pan and add about 1/3 cup of batter to the pan to cook. When you see bubbles it is ready to flip.
I use a cast iron frying pan and wait for it to get hot. If you add the batter too soon it will not cook well and even though I try to wait, I lack patients and I usually have a doggy one first up, but the rest are fantastic.
Serve with youhurt and fruit. I chose berries to add that little bit of extra sweetness that I have come to expect with a pancake breakfast.
This recipe will serve 4, so halve it is you want to. Left over pancakes are great the next day.