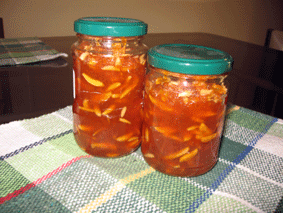 From my previous posts, you would now know that I have had an amazing crop of carrots this year, so I still have to come up with creative things to do with them, which of course is all part of the fun. The recipe below was adapted from a recipe from The Big Book of Preserving the Harvest Ingredients: 6 cups water 4 cups raw carrots, peeled and grated 4 medium lemons, 2 rinds grated, then all juiced and strained 2 medium oranges, 1 rind grated, then both juiced and strained 4 cups sugar 1/8 teaspoon salt. 100 grams slivered almonds (optional addition of my own) 1. In a 4 litre saucepan, combine the water, carrots, and the zest of two lemons and one orange. Cook, covered, until tender, about 30 minutes.
2. Add the strained lemon and orange juice to the citrus zest and carrots. Measure the mixture. There should be about 6 cups. 3. Add 2/3 cup of sugar for each cup of the mixture. Stir over medium heat until the sugar has dissolved. 4. Boil, uncovered until the mixture reaches 104 degrees C, or has reached setting point. This should take 30-45 minutes. Stir as the mixture heats to prevent scorching on the bottom.
5. Add the salt and remove the mixture from the heat. Quickly stir in your almond slivers. 6. Pour into clean, hot jars. Leave a 1cm head space. Wipe the rims of the jars and put on your new lids. 7. Process in a boiling water bath for 10 minutes, adjusting for altitude as necessary. Remove hot jars from the boiling water bath with your jar lifter and leave to cool on the counter. This recipe was such a hit that everyone who tasted it politely refused to give the jar back, so I had to make another batch to put any away in my own pantry. For me, the addition of the almond slivers was a taste sensation, as well and making the marmalade particularly visually appealing. This would make a great Christmas gift and we have some nice preserving labels available to give it that finishing touch. Have fun!