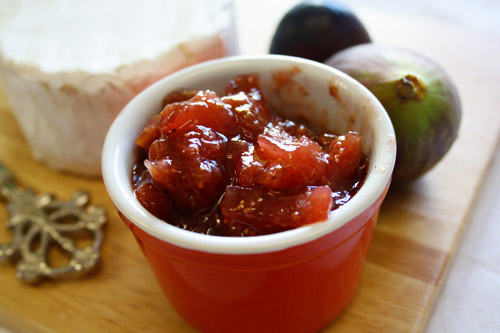 Makes approx. 3 x 250 ml jars
Ingredients:
500 g of fresh figs, chopped
2 apples
1 1/4 cup (150g) of sugar
1 / 2 cup cider vinegar
1 / 2 teaspoon cinnamon
1/2 tsp cardamom
Salt and pepper to taste
Equipment:
Glass Jars
New Twist Top Lids
Large Pot
Jar Lifter (recommended)
Lid Lifter (recommended)
Directions:
Prepare your 250ml jars and new lids by sterilizing them in boiling water for ten minutes.
In a heavy based pot combine your figs, apples, sugar, vinegar, spices and salt.
Bring this mixture to the boil and then reduce heat. Cook until the mixture thickens, stirring often to ensure it does not burn. This should take about 30 minutes.
Place your chutney into your hot, sterilized 250 ml jars, leaving a one and a half centimetre headspace. Clean the rims of the jar, to ensure you get a good clean seal and cap with your sterilized lids.
Process your filled jars in a boiling water bath for five minutes. For more information on boiling water bath preserving, please see our website: Boiling Water Bath Preserving
Enjoy!